"Tietto Minerals engaged Mintrex at a very early stage back in 2017 and we have relied on their experienced guidance and trusted advice since.
This has proven to be extremely beneficial to Tietto throughout the PFS and BFS process, during which time the Mintrex team delivered excellent work with the quality and scheduling being second to none.
We look forward to our ongoing collaboration with Mintrex through to development of the Abujar project."

Dr Caigen Wang
Managing Director
Tietto Minerals Ltd
The Abujar Gold Project is located approximately 30 km from Daloa, a major regional city in central-western Côte d'Ivoire. It is close to regional and local infrastructure, only 15 km from the nearest sealed road and grid power, facilitating its exploration and development.
Tietto Minterals Limited (Tietto) engaged Mintrex to undertake metallurgical testwork on several samples from its Abujar gold deposit to provide inputs to the Pre‐Feasibility Study (PFS) and Bankable Feasibility Study (BFS) also under the management of Mintrex.
A scoping‐level process plant flowsheet was used as a basis for developing the PFS testwork program, initially consisting mainly of comminution and leaching testwork. The testwork program results have indicated favourable grinding and leaching characteristics for all the ore to be treated.
To provide adequate inputs for a BFS, further comminution and leach testwork were undertaken in November 2020. A further twenty-one composites were selected and are representative of the expected pit area selected for SMC, BWi, leaching, and adsorption testwork.
This testwork used the conditions developed in the initial testwork phase. The Abujar Process Plant flowsheet is broadly based on similar free‐milling gold plant designs utilised in Western Australia and Africa.
The 3.5 Mtpa plant process flow diagrams (PFDs) were developed from the process design criteria (PDC) prepared by Mintrex. The plant design proposed is simple but robust and broadly comprises the following;
Primary Crushing;
Single Stage Semi‐Autogenous Grinding;
Gravity Concentration & Intensive Leaching;
Leaching and Adsorption;
Carbon Elution and Electrowinning; and,
Smelting.
The processing schematic for the Abujar plant is presented below;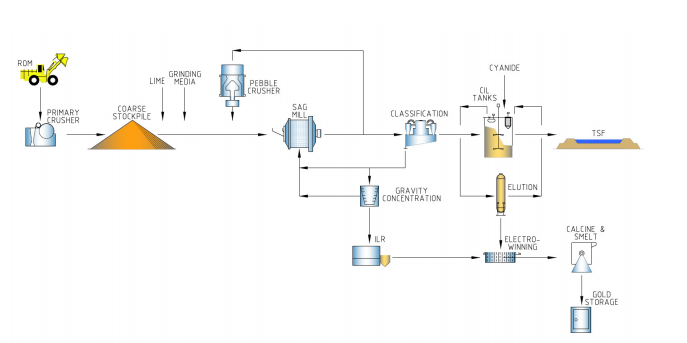 Mintrex also provided the capital cost for the process plant and associated infrastructure and the operating cost for the process plant to Tietto during the PFS and BFS studies.